Here's the deal. I'm not organized. I get like, a fog, over my brain when I even think about ways to become organized. It's the same feeling I get when I try to do Math. I need professional help. So, I'm looking for organization ideas from people who have made it their job to help others get organized.
This is how disorganized I am. I wrote a list of the different courses and books I was going to purchase to get started on this project.
**This post contains affiliate links. If you click one and make a purchase, I may receive a commission at no additional cost to you!**
I lost it.
And I looked through all of the 40,000 notebooks I keep notes in. The list was nowhere to be found. I'd have to start over because Lord knows I wasn't about to remember all of the resources I had decided on.
And then I realized I had ACTUALLY written it in a Google document and all was right with the world!
Except, for the time I lost looking for the research I had done on an organization post. Because I'm DISORGANIZED.
The irony.
Books and Courses to Find Organization Ideas for Your Home
My plan for trying out these resources is to use one organizing method per room in my home. I want to work through each course or book and document what I like, don't like, what works for me, what might work for someone else who isn't a disaster like me, etc. And then I'll share it all with you!
Brianna from Spiked Parenting is a professional organizer. She has several courses on productivity and organizing. We also happen to be in the same blogging course and so I scored her Total Transformation Home Organization course for free!
Brianna's course is straightforward, no BS and action oriented. There are simple steps to figuring out where to start, how to overcome obstacles and there's a workbook to keep yourself on target throughout the process.
I'm going to use Total Transformation Home Organization to organize my bedroom. One of the things Brianna teaches is how to figure out which room to start in and one of the ways to do that is to decide which room you want to be your sanctuary.
That's my bedroom.
It's currently a disaster zone of a clothes explosion in addition to all of the weird things in the house that don't have a home. So, I'm starting there and I'm starting with Brianna's system.
I'm sure you've heard of Konmari. It's a kind of a phenomenon. There's even a Netflix series.
I've read the book, I gave it sort of a half hearted try and I want to try it again. I'm going to use the Konmari Method to purge and organize ALL of the clothing in the house. Clothing and shoes are a big problem in this house. They are always everywhere.
Marie teaches that you should be respectful of your clothing items and thank them for their service. I know it sounds crazy, but it is actually quite nice.
I like this approach for clothing because it is basically one big giant purge all at once and that is exactly what I need for the clothing in our home. Two growing kids, plus me who has way too many wardrobes (work, exercise, hanging around, too big, too small) to fit my current lifestyle and a husband who doesn't understand hanging things up OR folding.
Clothes make my house messy. If I had less of them it stands to reason things would be less messy. So clothing organizatin with Konmari is number two on the list.
Check out this post for Kitchen Organization Ideas you can implement right now.
Organizing from the Inside Out was one of the very first organizing books I ever read. I loved it so much because Julie started as a mess, just like me. Julie got her crap together, I still have not.
I never put a full effort into applying the simple methods from Organizing from the Inside Out because I was a new mom at the time and all of my energy went into keeping children alive and thriving.
I only wish that I had thought about getting organized BEFORE I had kids so that my life would have been easier to keep running smoothly, but, alas, we can't turn back time, can we?
No, Cher, we can't.
I'm going to use the methods from Organizing from the Inside Out to organize my kitchen. My kitchen is actually not terrible in that it doesn't probably need a ton of purgin, but it is SORELY lacking in the organization department. I am excellent at making pot and pan pyramids.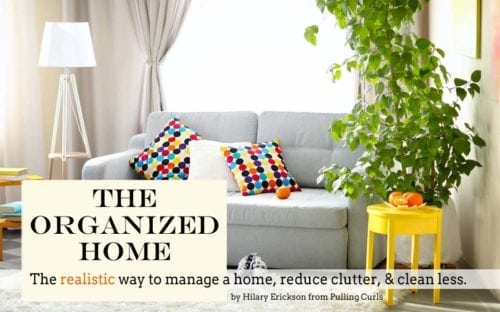 For the living areas of my home, I've selected an organizing course from Hilary at Pulling Curls. Hilary is a mom, a blogger, a Nurse and freely admits to being "very organized".
And that's why I chose her. Because the mythical "very organized" person is something that has always fascinated me.
This is the only organizing resource I've chosen that I don't have prior experience with, so I'm very interested to see how this works for me. I like that the Pulling Curls course is available at two different price points, 15/monthly or 50/yearly.
Here's what pulled me in to Organized Home from Pulling Curls:
"Know where all the important stuff is, and enjoy your free time with your family."
That's what I want out of my organized home. It doesn't have to be perfect. I just don't want to spend time looking for things that should always be in the same place. I want to spend time feeling content with my family.
What's Next?
Well, organizing, of course. I know where I'm getting started (the bedroom) and I know I'm starting with the course from Spiked Parenting.
What about you? Have you taken any organizing courses or read any great organizing books? I'd love to hear about them! Drop me a line in the comments and let me know what I'm missing out on!
If You Loved This, I'd Love it If You Pinned It!